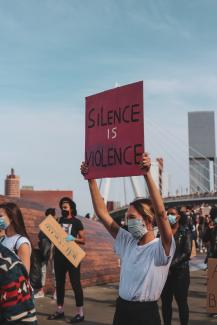 Abortion and Financial Planning - Steps we can take to protect Women and Influence Action
I am an independent financial planner affiliated with Cetera Investors. My views are not a reflection or representation of Cetera's. It is my personal belief that a woman's autonomy over her body and her medical decisions are absolute, and any law restricting her choices is denying her most basic, core rights.
Last week, the Supreme Court reversed Roe vs. Wade. I've heard some question whether this has anything to do with investing or financial planning. The answer is two-fold: how can women protect themselves (and how can the rest of us help them), how can we use their money to influence action, and lastly, how can we help those women and girls who will become pregnant and have no recourse?
Protecting Women
One of the most important things that we can all do is review our health insurance to understand what coverages are provided for reproductive healthcare. This is important for both privately held and employer-provided health insurance. 
Check your in-network vs. out-of-network benefits, and whether there are specific provisions for reproductive care that is available elsewhere, but not in your location
Does your employer offer support such as reimbursement for travel or coordination of travel, etc.?
Do they offer mail-order medications?
If your current health plan is privately-held, and does not include the coverage you need, it may be time to upgrade. If you need a referral to an advisor for health insurance, please let me know.
This is the time of year that employers are reviewing employee benefits and selecting health plans, among other things.  The time to ask these questions is now. Employers, if you are doing your annual review and your health plan doesn't include the benefits you need, I would be happy to provide a referral to a group health plan advisor.
How Can We Influence Action?
As we all know, money talks. This has been the basis of Socially Responsible Investing (SRI) and Environment, Social, and Governance Investing (ESG). Many companies have come forward with their policies to provide travel assistance and other benefits to ensure that their employees get the reproductive health care they need. I am maintaining a list of those companies. If that's important to any of my clients, then it will be a factor in investment decisions.
Today, there are mutual funds and Exchange Traded Funds (ETFs) that focus on many different things, such as businesses owned or led by women. As of now, I'm not aware of any that focus on companies that provide a certain level of reproductive support or benefits. That may change. When it does, I will review them to understand the role they might play for an investor. 
As individuals, there are other things that we can do, such as donating to politicians or organizations that influence politicians. 
How Can We Help Women?
We cannot escape the fact that there will now be young women (and girls) whose lives will change course completely, only now they will be unable to set their own direction. Already, charitable funds or nonprofits are set-up to provide support to those women. They will need support.
Unfortunately, with so many things, there are scammers and grifters looking for opportunities. How can you be sure that a charity or nonprofit is legitimate? The most important tips are to do your research and when giving, do not provide any personal financial information such as your Social Security number, date of birth or bank account number to anyone soliciting a donation. Check out this article for some tips on avoiding charity scams
I've been asked why I feel so strongly about this. As a gay man, I've had my basic dignity, my humanity, my core rights central to my body and spirit, debated in front of the Supreme Court several times. It will happen again later this year. I know what that feels like, and I know how gut-wrenching it is when a group of mostly straight men decide what those rights are. No one should have to experience that feeling, especially not the young women who have lost control over their bodies and their futures.

Frank Summers, Certified Financial Planner™. I work with clients across the US, and am physically located in Charlotte, NC. You can reach me at 704-717-8900, Ext 115 or by email at frank.summers@ceterainvestors.com