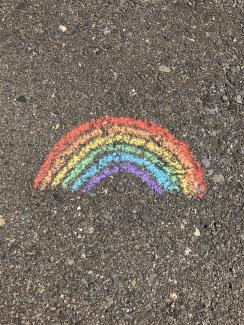 As Pride Month winds down, I thought I'd share some of the articles and facts about our community and money. This year, as we all know, there has been a backlash against companies that support our community. Some have made it clear that they will continue to support us. Others have been more muted and still others have turned their backs.
A wave of anti-LGBTQ+ laws and especially anti-trans laws has swept through many states, including North Carolina. I never thought I'd hear so many people talk about moving out of state or even out of the country, concerned for their safety or the safety of their children or loved ones. Yet, here we are. 
We still have tools to fight back. We can support the companies that support us, work with small businesses that are part of our community. Money talks and has power, and we need to use it. 
Read: Pride and Your Money
---
Companies are being less vocal in their support. Mentions of Pride Month were down on earnings calls and in filings for the first time in five years. Read: Anti-LGBTQ Backlash Puts a Chill on Corporate America's Rhetoric
There is hope.  Read: While fights rage over big brands like Bud Light and Target, other companies have stepped back and are quietly improving LGBTQ+ representation from the inside
One of the best moves we can make is to support LGBTQ+ small businesses. Did you know that small businesses are more likely to be started by women, people of color and LGBTQ+ people? Getting started can be tough (I know, I'm speaking from experience!) Read: Use these LGBTQ+ grants and resources to launch and grow your business.
---
Many people have considered moving. Some want to move for retirement, some to be in a more welcoming place, and others to keep their children or themselves safe. 
Read: The most LGBTQIA+ friendly countries for expats
This has been particularly impactful on the parents of trans kids. The need to protect, support and access medical care are very real concerns. Read: 'I've kept her safe': Families flee states with transgender care bans to protect their children
#SpillingTheTeaOnLGBTFinances